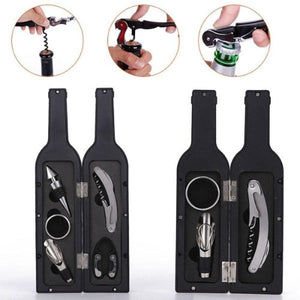 Shop online wine bottle corkscrew set tool bottle-shaped holder, bottle opener tool set with wine stopper accessory kit gifts for wine lovers; buy now!

Buy as a gift! bottle opener gift wine tool sets with bottle opener bottle-shaped holder
Bar accessories: wine tools, stainless steel-made bottle stoppers, unique design with vacuum-sealed, soft silicone, tightly separate air, flat bottom, easily stand on any table, extend the best tasting of your wine, champagne, olive oil, etc, free delivery, and satisfaction guaranteed
Bar set is the perfect gift for any occasion: Christmas, birthday, thank you, wedding gift, wine tools, bar accessories, a kitchen collection, an appreciation gift, or a gift to someone!

Specifics:
5pcs/set:

1x bottle drip ring
1x wine bottle opener
1x bottle foil cutter
1x multi-functional hippocampal cutter
1x Stainless Steel Stopper
3pcs/set:
1x bottle drip ring
1x wine bottle opener
1x Stainless Steel Stopper 
Stainless Steel + PPS 
 Size:
Large 5pcs: Red / Black 
Medium3pcs: Black