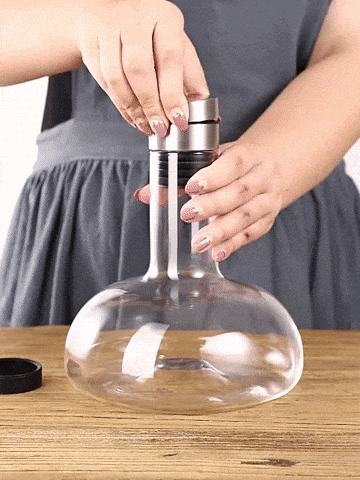 If you're searching for a decanter to buy, we recommend this handmade crystal decanter for red wine brandy champagne decanter bottle jug pourer aerator for home bar; order online today!

Are you looking for a crystal decanter? If you enjoy red wine or drink more affordable wine on a regular basis, then using a decanter is a great idea. Decanting may not look like much, 
but the increased oxygen exposure to wine greatly improves the taste by softening astringent tannins and letting the fruit and floral aromas come out.
Wake-up/drinker, breathing design, unique Lead-free glass material, high-quality protection, non-toxic, harmless, tasteless, and the necessary tools for wine make it a must-have choice for bars, parties, families, restaurants, and hotels.
Decanter 

Product Specification:
Excellent-quality high-borosilicate glass Elegant Hand-blown Glass Eco-Friendly Breathing rotation
Shape: Irregular shape
Material: Lead-free crystal glass
Diameter: >10cm

Capacity: 1000-1500ML
Weight: 600g
Size: 25cm*11cm*5cm
Guaranteed Satisfaction > or your money back💸