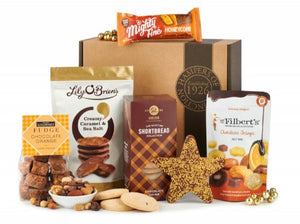 Make the perfect gift this Valentine's Day with the
 Finest Chocolates Basket Gift

, Free Delivery, and Secure Shopping, Easy Ordering Online from Super Gift Online, Buy Now!


Are you looking for the ultimate chocolate hamper? Then look no further! Packed with 10 different types of chocolatey treats, this chocolate hamper has enough to satisfy even the most ardent chocoholic. All of this is packed into a themed postal box for easy delivery, making it making it making it ideal for celebrating any occasion, it doesn't just have to be Christmas to gift this sweet tooth's dream.

The Chocolate Heaven Hamper is the perfect gift for Valentine's Day, an anniversary, Wedding, and a great Thank You gift that will be perfect to share at an office or at home. 

The stylish presentation and delicious content make this gift unforgettable! Everything comes arranged in luxury Boxes for the perfect occasion. Available to buy Online Today!


 Inside you will find a scrumptious selection which includes,
Bon Bons Chocolate Orange Fudge 160g
Thornton & France Milk Chocolate Star 50g
Mighty Fine Salted Caramel Chocolate Honeycomb Bar 30g
Lily O'Brien's Creamy Caramel & Sea Salt 120g
Filbert's Chocolate Orange Nut Mix 75g
Reids Chocolate Chunk Shortbread 150g
Packed in a Kraft Gift Box
Please note that it is sometimes necessary to substitute items with a suitable equivalent.
Shipping Notice
This product will be delivered from our dedicated gourmet food and drink warehouse and will be sent separately from the rest of your order. International delivery options are not available for this product. UK delivery only.
 Guaranteed Satisfaction > or your money back💸