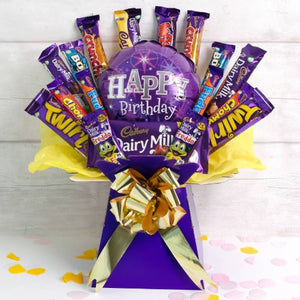 Celebrate a special occasion with the happy birthday chocolate bouquet. There's a special bundle for the loved one; order online today!

You can send this happy birthday chocolate bouquet to your family and friends, gift hampers online as The best gift luxurious chocolate bouquet to make a lasting impression. Free delivery, and secure shopping, shop now!
All of the gifts are packaged beautifully and hand-selected for their amazing taste.
Contains standard-sized bars.
Happy Birthday Balloon
Wispa
Dairy Milk
Dairy Milk Fruit n Nut
Dairy Milk Caramel
2 x Boost
2 x Twirl
2 x Crunchie
Dairy Milk Big Bar 95g
2 x Fudge
2 x Freddo
2 x Chomp
We do not use multi-pack chocolates in our bouquets.
Shipping Time:
This product will be delivered from our dedicated gourmet food and drink warehouse and will be sent separately from the rest of your order. International delivery options are not available for this product. 
We only dispatch and process orders Monday to Friday. We do not despatch at weekends or bank holidays. If you order on a weekend your order will not be processed until the next working day.
We do not offer same-day delivery on any of our products. 
Guaranteed Satisfaction > or your money back💸