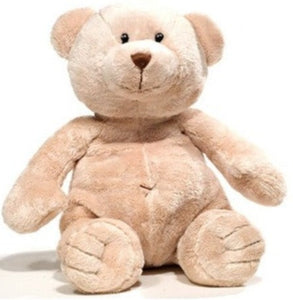 Anyone who has looked a teddy bear in the face will recognize the friendly twinkle in his knowing look. Our adorable, plush & soft cuddly teddy bear (around 30 cm) will become a lifetime friend for your beloved sweetheart. Order it now and your darling will never forget your love! 
Buy Now!
Teddy Bear Hugs are so easy to say 'I love every aspect of you! Add a loving touch thanks to a cuddly Teddy Bear, a huggable best friend.
Presenting a cuddly teddy bear! He gives the best cuddles when you can't be there. This beautiful cream super soft teddy measures approx 30cm. Free Delivery, and Secure Shopping, Easy Ordering Online from A Wine Lovers, 
Please note: The design and color of a Teddy Bear may vary by country of delivery.
Contains:
Teddy bear 30 cm;

Gift Wrapping;
Greeting Card.
Attention: gift packaging type varies based on delivery location and season.
 Shipping Notice
Please allow 1 business day for your order to arrive at an address in the UK.
We provide gift delivery in all locations in the UK.
We deliver gifts locally within the UK, which guarantees quick service & product freshness upon arrival to your gift recipient. Please see our delivery policy 
for more details. 
Guaranteed Satisfaction > or your money back💸