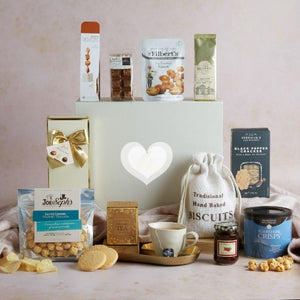 Looking to Share a Gift Basket? Tea-lovers will always appreciate a thoughtfully chosen gift related to their favourite and delicious hot beverage. 
Shop NOW!
 Make sure you share in the joy for all of them by surprising your loved ones with a gift fit for the occasion. Your recipients will enjoy a gift filled with irresistible treats, including Belinda Clark Salted Caramel Marshmallows, a Mini Salted Caramel Bar, a box of refreshing Afternoon Tea, and more! Send them your best wishes when you send this gorgeous hampers
Inside you will find a scrumptious selection which includes:
Lemon Biscuits in a Hessian Bag by Farmhouse Biscuits

75g Verduijns Savoury and Black Pepper Wafers
50g Yorkshire Crisps Chardonnay Wine Vinegar
Joe & Seph's Salted Caramel Snack Pack, 32g
40g Filberts Dry Roasted Peanuts
112g Thursday Cottage Raspberry Jam
56g Edinburgh Tea and Coffee Company GoldBag
New English Tea Afternoon Tea
38g The CCC Mini Salted Caramel Bar
125g Hamlet Ivory Box Assorted Chocolates (Contains Alcohol)
30g Belinda Clark Salted Caramel Marshmallows
Free Personalised Message.
Attention: gift packaging type and brands may vary based on delivery location and season.
Please note: Tableware and decorations are not included.
Shipping Notice
 Please allow 1 business day for your order to arrive at an address in the UK.
We deliver gifts locally within the UK, which guarantees quick service & product freshness upon arrival to your gift recipient. UK delivery only.
Guaranteed Satisfaction > or your money back💸