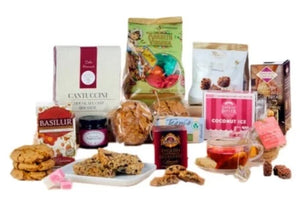 You can send a tea and cookies gift ideal for tea lovers to enjoy the perfect cup of tea on a romantic morning or holiday celebration

; shop now!

Send a morning or afternoon Tea and Cookies Delights hamper, the gift of relaxation, to your friends and family with a gift basket full of delicious goodies.

Your recipient will receive a basket full of Instant Drinking Chocolate, Italian Ground Coffee, White Chocolate Pralines in a heart pot, Dragee Ciocco Nocciolone, plus more. Send the gift of relaxation and treats with the tea and cookies basket.

Our Tea and Cookies Gift makes the perfect Valentine's Day, anniversary, birthday, or Christmas and Easter present

This Christmas, share a gift of passion with someone you love. Order today! free delivery, and secure shopping

 Inside, you will find a scrumptious selection that includes
Apple Pie Cookies Handmade, Teoni 300g;

Cantuccini Biscotti, Choc Chips, AsoloDolce 125g;




Belgian Chocolate Clusties, Noble Chocolates 110g;




Soft Amaretti Biscuits, Amaretti Virginia, 150g;




Strawberry & Raspberry Infusion, Basilur 25 bags;




English Breakfast Tea, Basilur 10 teabags;




Granola Flapjack, Original Cake Co. 180g;




All Butter Shortbread, Duncans of Deeside 200g;




Pink Chocolate Praline, Crea 20g;




Nostalgic Sweet Shop Coconut Ice, C.Butler, 100g;




Strawberry and White Chocolate Chip Cookies 50g;




Strawberry Extra Jam, Mrs Darlingtons 130g;




Gift Wrapping;




Greeting Card.
Attention: gift packaging type varies based on delivery location and season.
Shipping Notice
Please allow one business day for your order to arrive at an address in the UK.
We deliver gifts locally within the UK, which guarantees quick service & product freshness upon arrival to your gift recipient. Please see the delivery policy for more details.
 Guaranteed Satisfaction > or your money back💸