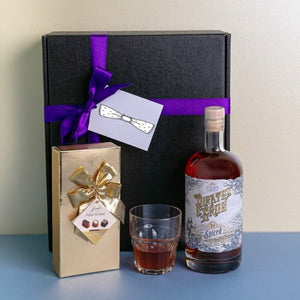 Looking for gifts for your lover who has Everything? champagne bottles, wine accessories, fun beers, wine gifts, personalised gifts just for Him. An ideal gift of a bottle of Pirate's Grog, Rum for Rum lovers; Shop Now!
Best Gift For The Rum Lover! Buy the man in your life a special birthday rum box of Pirate's Grog Rum Gift for Him. Valentine's Day,  Ideas for Fathers, Uncles, Grandfathers, and Male Friends Birthdays.
This luxurious spiced rum gift combines scrumptious Belgian chocolates with one of the finest spiced rums around.
The rigid luxury gift box contains a delicious 125g box of Belgian chocolates. The centrepiece of this gift is the Pirate's Grog Rum.
Pirate's Grog Spiced is an exotic infusion of salt, caramel, a touch of allspice, and a secret ingredient, which can be found growing along the enchanting shores of Roatan, Honduras.
As the fourth expression in the award-winning Pirate's Grog collection, this rum is the result of adding a new dimension to the deliciously smooth Pirate's Grog Five Year aged golden rum.
Created using a number of fresh ingredients, expect a subtle sweetness that sits in tandem with the taste of pure quality. It's taken over a year to reach perfection, the pirates of old would have been proud... But, now it's your time to decide!
Made from Premium five-year aged rum, spices, glass bottle, and natural cork stopper.

 700ml rum. Alcohol content 37.5%
Contents Include
1 x 70cl Pirates Grog Spiced Rum 1 x Gold Box of Chocolates 1 x Rigid Gift Box
Shipping Notice
This product will be delivered from our dedicated gourmet food and drink warehouse and will be sent separately from the rest of your order. International delivery options are not available for this product. UK delivery only.
Guaranteed Satisfaction > or your money back💸