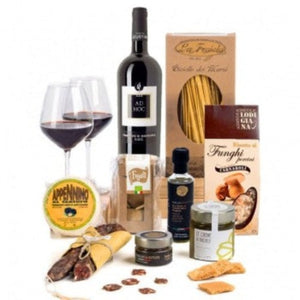 Send this luxury basket of everything your recipient could ever want, so delicious and gorgeous, your friends or loved ones will be over the moon with joy when they receive this gift. Order Online at the Best Price; Buy NOW!

When the time comes for a celebration, make sure the people you care about have something for a delicious toast, and a delightful treat as a taste of truffles, Shipping  UK  Only, FREE Delivery, and Secure Checkout.
Whether you're sending your congratulations, your thanks, or warm wishes for any occasion, they're sure to enjoy this elegant collection includes a Bottle of 

Surprise a family with a wine hamper that is sure to tempt their taste buds. Your family and friends will indulge in a bottle of robust Primitivo di Manduria DOC, Ad Hoc, Tenuta Giustini, along with a bottle of Organic EV Olive Oil & Truffle, a jar of creamy Italia Tartufi White Truffle Sauce, Porcini Mushrooms Risotto Rice, Lodigiania, and more.
Celebrate your Anniversary, say Thank You, or impress your VIPs with A Taste Of Truffles. and more. 
Packaged in a beautiful rustic woven basket:
Primitivo di Manduria DOC, Ad Hoc, Tenuta Giustini;

Porcini Mushrooms Risotto Rice, Lodigiana 250g;




Truffle Cheese, Valsamoggia 400g;




EV Olive Oil & Truffle, ItaliaTartufi 100ml;




Black Truffle Sauce, ItaliaTartufi 45g;




Sourdough Crackers 'Minitele', Figulì 50g;




Egg Tagliatelle, La Fraiola 250g;




Vegan Pesto Pistachio 70%, Creme di Rachele 170g;




Soppressata (Artisan Salami), Calla 200g;




Cool Pouch Small;

Gift box;

Gift Wrapping;

Greeting Card.
Attention: The gift packaging type varies based on delivery location and season.

Shipping Time for this item:
Please allow 2 business days for your order to arrive at an address in the UK. We deliver gifts locally within the UK, which guarantees quick service & product freshness upon arrival to your gift recipient. Please see the delivery policy for more details.
By placing an order for one of these items you are declaring that you are 18 years of age or over. These items must be used responsibly and appropriately
Guaranteed Satisfaction > or your money back💸