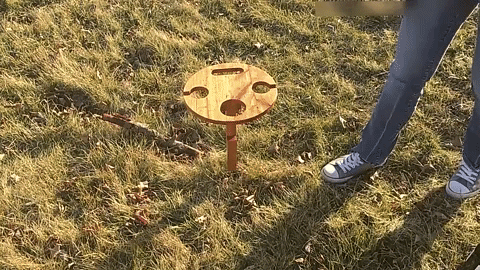 Buy outdoor wine table with a foldable round desktop mini wooden picnic
 table that easy to carry a wine rack
, 
Shop Online Today!
Outdoor Wine Table Portable Snack Beach Table for Sand and Grass Wine Picnic Cheese Board Table. Grasslands are ideal for picnics, but they are definitely not ideal for keeping wine glasses and corkscrews upright. Free Delivery, and Secure Shopping
The clever foldable table is designed to accommodate all the elements of a classic picnic: two cups, a wine bottle, and a plate filled with your favorite utensils.
Baltic birch plywood design can be folded flat, can be locked in open and closed positions, and has two convenient handles.
Fiberglass spikes allow you to plant the table firmly in grass or sand, but they are not sharp enough to poke a picnic. Excluding wine bottles, wine glasses, and plates.
 Features:
This handcrafted collapsible wine table is a must-have for all wine lovers.
It is designed to hold all the elements of the classic picnic - a bottle of wine, two glasses, and a plate of your favorite wine pairings.
Perfect for outdoor wine festivals, family picnics, camping, beach, or just a quiet evening in your backyard!
Wood table folds flat and locks in both positions, open and closed.
Fiberglass rod pushes into the ground with little effort. It works in grass, dirt, and sand.
 Guaranteed Satisfaction > or your money back💸