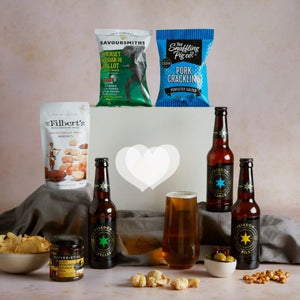 Send Online This Easter Great Craft Beer, Snacks Hamper Gifts Ideas E
xcellent Robust Beer

 And Snacks, The Recipient Of This Special Gift Will Love It And Appreciate A Gift! Shop Now!

Beer and snacks hamper are Perfect Gifts for Easter, Gifts for Him, for Father's day, for your Husband and Special Friends! Free Delivery; and Secure Shopping, Uk Shipping only 

They'll enjoy an assortment of 3 bottles of beer, along with a bag of Salted Pork Cracklings, a bag of savory Roasted Peanuts, and Svoursmiths Somerset Cheddar Shallot Crips. Snacks and Beer is the perfect gift for House warming, celebrating his Birthday, or saying Thank You
What's in Snacks and Beer

Freedom Helles 330ml;




Freedom Lager 330ml;




Freedom Pilsner 330ml;




Savoursmiths Somerset Chedder Shallot Crisps 40gr;




The Snaffling Pig Co Pork Crackling Salted 45gr;




Filberts Dry Roasted Peanuts 40gr;

FREE GIFT MESSAGE
Attention: gift packaging type varies based on delivery location and season.

By placing an order for one of these items you are declaring that you are 18 years of age or over. These items must be used responsibly and appropriately.
Delivery Notice:
We deliver gifts locally within the UK, which guarantees quick service & product freshness upon arrival to your gift recipient. Please see the Delivery Policy for more details.
Guaranteed Satisfaction > or your money back💸