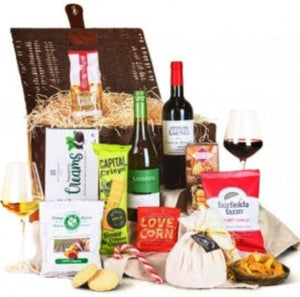 If you're looking for Christmas treat gifts; f
rom bordeaux wine to choc & pistachio gluten-free cookies, and so much more Order this hamper right now!
This scrumptious Christmas collection includes traditional treats, and the decadent bundle is full of rich and hearty snacks that will have everyone feeling cozy inside. 
- Bordeaux, Chateau Dintrans, 75cl;
- Mint Creams, Whitakers 150g;
- All Butter Shortbread, Duncans of Deeside 200g;
- Colombard Chardonnay, The Landings, 75cl;
- Root Vegetable Crisps, Fox Italia, 25g;
- Capital Crisps Sour Cream & Onion, Capital, 75g;
- Pizza Bread Sticks Handmade, Bibanesi 100g;
- Sweet Chilli Crisps, Fairfields, 40g;
- Habenero Chilli Crunchy Corn Kernels Love Corn 20g;
- Choc & Pistachio Gluten Free Cookies, Teoni 200g;
- Bombay Mix, Crunch Craving 150g;
- Wicker Basket;
- Gift Wrapping;
- Greeting Card.
Attention: gift packaging type varies based on delivery location and season.
Shipping :
Please allow 1 business day for your order to arrive at an address in the UK.
We provide gift delivery in all locations in the UK.

Guaranteed Satisfaction > or your money back💸