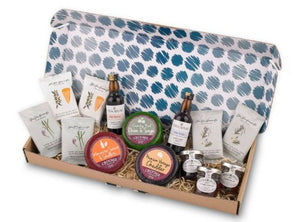 Send your love, say happy birthday, or celebrate Christmas with our heavenly dip sampling gourmet gift. It's time to treat family and friends with the perfect hamper box gifts. Explore our fab gifts today and shop online now!

Sending holiday hampers! If you're looking for great gift ideas for family and friends, look no further. Relax, and send a cheese-please gift box set that they will keep until they are ready to dive in! irresistible treats!

Inside, you will find a scrumptious selection that includes:


Vista Alegre White Port 50ml
Vista Alegre Tawny Port 50ml
Croome Cheese Worcester Sauce & Shallots 150g
Croome Cheese Crunchy Red Onion & Sage 150g
Croome Cheese Premium Vintage Cheddar 150g
2x Fine Cheese Co. Chive Crackers For Cheese 15g
2x Fine Cheese Co. Rosemary Crackers For Cheese 15g
2x Fine Cheese Co. Extra Virgin Olive Oil & Sea Salt Cracker Pack 15g
Tiptree Hot Gooseberry Chutney 38g
Tiptree Chutney 38g
Tiptree Hot Mango Chutney 38g
Presented in a hamper box that is suitable for most letterboxes.