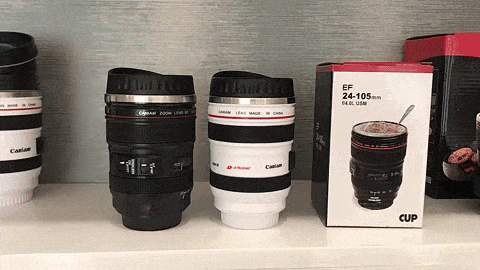 Buy Camera Lens Coffee Mug 400ml Thermal Mug Camera Lens Thermos Cup with Cover Stainless Steel Tumbler Coffee Cups Water Bottle Vacuum Flasks Drinkware, Free Delivery, and Secure Shopping! Shop Now!

Buy a camera lens mug, travel coffee mug stainless steel insulated cup 400ml thermal mug camera lens thermos cup with cover stainless steel tumbler coffee cups water bottle vacuum leakproof lid flasks drinkware; Free Delivery, and Secure Shopping!
The lens mug is a 1:1 replica of  Lens EF 24-105mm f/4L IS USM Lens. Perfect gift for everyone in your life, especially a photographer & videographer.

 Food grade ABS plastic materials outside are 100% BPA-free and extra-fine stainless steel interior with 13.5oz / 400ml Capacity when filled up. Insulated stainless steel keeps your hot or cold beverage for longer.

Leak & Spill-proof Lid The fully closed lid is non-spill and will keep your coffee or beverages safe until you come to your senses and drink it while it's hot.

If you are not a coffee drinker. You can use it as a nifty pen holder, hold loose change - or a vase. We're not going to tell YOU how to enjoy your cup, you choose!
 Guaranteed Satisfaction > or your money back💸