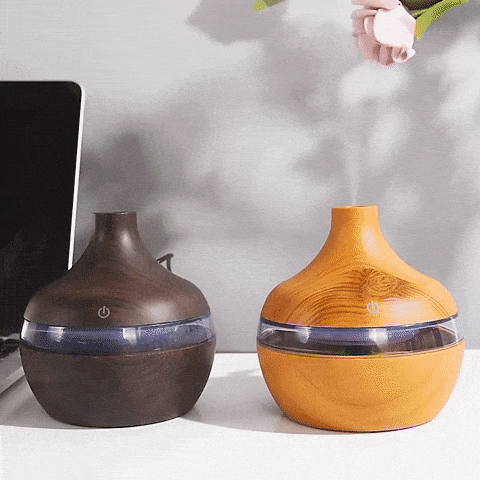 Buy Online a portable ultrasonic LED aroma humidifier that charges via USB and is a purifier and atomizer for essential oils online today! 
Humidifier Air Essential Oil Aroma Diffuser is exquisite small, does not take up space, is used in the car, and enjoys the fog of water vapor, USB wood Ultrasonic air humidifier Electric Aroma air diffuser Essential oil Aromatherapy cool mist maker for the home.
Aroma Diffusers are timeless and elegant, they provide a flameless and smoke-free way to fragrance your room or office. Just add some water and a favourite essential or fragrance oil for an instant aroma experience.

The Aroma Diffuser use an ultrasonic motor to pump out the water so it's very quiet during use. As featuring a colour changing mood light and can be used as a simple humidifier.
Aroma Diffusers are very easy to operate and maintain, only occasionally having to be filled with a small amount of water and a few drops of scented oil.
Product parameters:

Dimensions: 11,5x15 (cm)-11,5x19 (cm)-11,5x28 (cm)-11.5x15.2 (cm)-
11.5x16 (cm)-16,5x9,5 (cm)-11,5x13 (cm)
Materials: plastic
Working time: up to 5-6 hours USB plug
Mist capacity: 30ml/h
Packages: 

1 x Humidifier, 1 x USB Cable, 1 x User  Manual