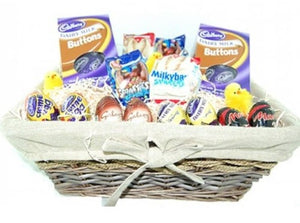 Send this gorgeous Easter eggs chocolate hampers basket sweet basket and wonderful Easter chocolate hamper gift. This gift is ideal for everyone, ranging from a very hungry person to a family of five, Shop online today!

The Egg stravaganza Hamper contains an amazing mix of yummy chocolate Easter eggs. Delivery UK only!

Shop Online Easter Mix Eggs & Chocolate Hamper is an exclusive gift to Easter Lovers, Easter Eggs are a Fantastic Favourite for Kids and Adults to Share.! Buy Now!
 This hamper really will make you say wow and includes Easter treats including, Mini Eggs, Cadbury Creme Eggs, Lindor Eggs, Caramel Eggs, Galaxy Eggs, and Milk Chocolate Eggs. Secure Shopping; Free Shipping UK Only! 
There are eight different types of Easter Eggs all crammed into a lovely wicker hamper basket. Inside the hand made wicker hamper you will find a huge mixture of Easter treats including,
2 x Cadbury Easter Eggs 72g

2 x Bags of Mini Eggs 100g

2 x Cadbury Creme Eg

2 x Lindor Lindt Egg

2 x Oreo  Egg

2 x Milk Chocolate Egg

2 x Galaxy Caramel Egg

2 x Hersheys Cookies n Cream Egg

 it is sometimes necessary to substitute items with a suitable equivalent.

Inside the really high-quality 10 inch wicker hamper you will find a huge selection of Easter goodies.
Hamper dimensions: H11cm, W25cm, L19cm

Shipping Notice
 We only despatch and process orders Monday to Friday. We do not despatch at weekends or bank holidays. If you order on a weekend your order will not be processed until the next working day. 
Guaranteed Satisfaction > or your money back💸