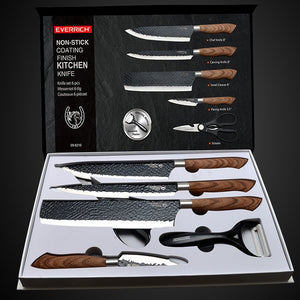 Shop now m
ultifunction 

kitchen knives set gift pack. Online shopping for Home & Kitchen from a great selection of butter knives, cheese knives, steak knives, Knife rests, chef knife cooking tools; Shop Online Today!
Buy High-Quality Stainless Steel Multifunction Kitchen Knife Sets. The  Knives will not absorb odors, or take effect from the acidity in fruits and vegetables. Non-reactive. Easy to Clean, Rustproof, Anti-bacteria, Anti-fouling, Non-toxic, Non-corrosive. Never rust and will remain oxidation-free cooking tools. Free Shipping, and Secure Shopping!
Description:
ALL-IN-ONE KNIFE SET, including 8"Chef Knife,8" small Cleaver,8"Carving Knife,3.5"Paring Knife, and Scissors. These kitchen knives come in a beautifully designed and high-quality gift box, making it an ideal gift for a friend or loved one, even yourself.
Extremely sharp: Every knife blade is made from forged high-carbon steel. The blades are then hand-sharpened and lastly, the satin finished-which provides a superbly sharp and efficient edge that will retain its sharpness for long periods, even with heavy daily use.
Comfort and Safety: Handles are made from wood for easy-to-maneuver, comfortable, and non-slip handles. Every knife has a balance pretty evenly distributed between the blade and the handle, If you are using the knife a lot for large quantities of ingredients, a balanced knife offers far less strain on the arm.
Durable: The cutlery grade steel with 58 Rockwell hardness is used to make the knife blades neither rust corrodes nor discolors. You are still expected to hand-wash the knives and Stay dry to maintain the appearance. Precision forging creates a durable knife.
Package Include :
1× 8 inch Chef Knife
1× 8 inch Nakiri Knife
1× 8 inch Slicer Knife 
1× 3.5 inch Paring Knife
1× Kitchen Scissors
1× Ceramic Peeler