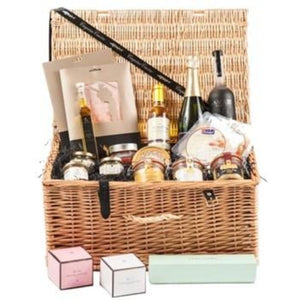 Send online a king's ransom of delicious delicacies, a bottle of premium chase vodka, a bottle of earthy black truffle oil, gourmet smoked salmon, a bottle of crisp chateau briatte, mouthwatering keta salmon caviar, a tin of trout caviar, creamy goose foie gras, two rich jars of duck foie gras! Shop online today!
Make sure their Special Occasion unforgettable;  is one they will never forget with this Deliccassen Gourmet Hamper that will have them talking for years to come. Free Delivery, and Secure Shopping. 

Show how much you care with this delightful hamper filled with Vodka,  Caspian Caviar, Black Truffle,  Salmon Caviar, and Goose Foie Gras.... perfect-gift-for-Special-Occasions-as- Christmas, Valentines-day-Wedding-Anniversary-Birthday-Newborn-so-on.
Inside the hamper, you will find a selection of Super delicatessen treats.
Marquis Vodka 700 ml;

Caspian Caviar Selection Champagne 700 ml;

Chateau Briatte (Sauternes) 375 ml;

Smoked Salmon 2 x 400 gr;

Keta Salmon Caviar 250 gr;

Trout Caviar 100 gr;

Black Truffle Oil 100 ml;

Goose Foie Gras 180 gr;

Duck Foie Gras 180 gr;

Duck Foie Gras with Sauternes;

Prosecco Jelly 120 gr;

Onion Confit;

White Sturgeon in Olive Oil;

2 packs of Blinis;

Salted Caramels 130 gr;

No 14 Salted Caramels 130 gr;

Saint Aymes Selection Box;

Wicker Hamper;

Gift Wrapping;

Greeting Card.
Attention: gift packaging type varies based on delivery location and season.
Shipping Notice
Please allow 1 business day for your order to arrive at an address in the UK.
We provide gift delivery in all locations in the UK. We deliver gifts locally within the UK, which guarantees quick service & product freshness upon arrival to your gift recipient. Please see the Delivery Policy for more details.
By placing an order for one of these items you are declaring that you are 18 years of age or over. These items must be used responsibly and appropriately
Guaranteed Satisfaction > or your money back💸