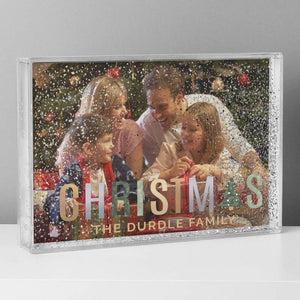 Shop Online 
Personalised Christmas 6x4 Glitter Shaker Photo Frame

with Free Delivery, and Secure Shopping! Buy NOW!


Shop Online Personalised Christmas 6x4 Glitter Shaker Photo Frame is the perfect festive gift for your home. Free Delivery, Secure Shopping, Easy Ordering Online from Super gift Online, Buy Now!

This frame can be personalised with a message of up to 25 characters. Please note that all text will appear in fixed upper case.' Christmas is fixed text and cannot be amended. This frame can fit a photograph sized 6x4 inches.


The back of the frame can be removed to add a photograph of your choice. These frames can be displayed standing. This frame is made from plastic and is filled with liquid and glitter, which creates a charming shimmering effect when rotated or shaken. Ideal for Christmas.
Shipping Notice
This product will be delivered by an external supplier and will be sent separately from the rest of your order. UK delivery only.
4 Great  Reasons to Buy from Us
Guaranteed Satisfaction > or your money back💸
Shipping Time: 
GB - UK Delivery ONLY. Allow 1-3 Days Processing Time Tracking Number for Wine & Food Hampers

✈ Estimated delivery time 1-5 days for UK orders
⏳ Allow 1-3 days processing time tracking number for the USA
✈ Estimated delivery time 8-12 days for USA orders
🌎 Allow 1-3 days processing time tracking number for the rest of the Countries
✈Estimated delivery time 10-18 days to reach destination countries Orders