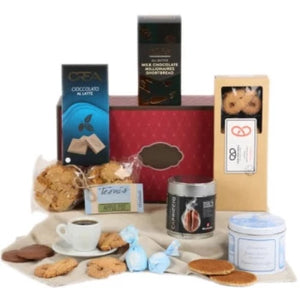 Wake up your Favourite Sleepy Head! 

Shop Online Exclusive Luxury Italian Coffee Gift Hampers Free Delivery, and Secure Shopping, Easy Ordering Online from, Buy Now!

Get woke! Mornings are hard, coffee makes them better, and Italian coffee…well, we urge you to try it for yourself and everyone you love.

Get a better start with eye-opening Italian 'Capriccio' Ground Coffee along with Sweet Cracknel Biscuits, Dutch Caramel Waffles, gourmet Oatcrunch Apple Pie Cookies, and much more. Whether you're wishing them a fabulous Father's Day or simply reminding them you care, the Woke! Italian Coffee Gift Basket is sure to do the trick.
Inside you will find a scrumptious selection that includes Delicious Treats: 
Milk Chocolate, Crea 100g;

Italian Ground Coffee 'Capriccio', Manuel 125g;


Apple Pie Cookies Handmade, Teoni 300g;

Dutch Caramel Waffles, De Banketgroep 250g;

Blue Chocolate Praline, Crea 20g;

Sweet Cracknel Biscuits, Van Den Berg 200g;


Milk Chocolate Millionaires Shortbread, Farmhouse;

Gift Box;

Gift Wrapping;

Greeting Card.
Attention: 
gift packaging type varies based on delivery location and season.
Shipping Notice

Please allow 3 business days for your order to arrive at an address in the UK.
We deliver gifts locally within the UK, which guarantees quick service & product freshness upon arrival to your gift recipient. Please see the Delivery Policy for more details.
Guaranteed Satisfaction > or your money back💸