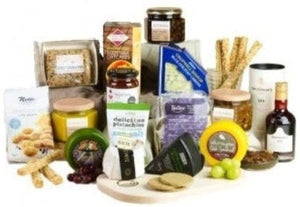 Cheeseboards make for an amazing centerpiece at any event. Send your loved ones a delightful mix of gourmet cheese & treat hampers that give them everything they need to entertain in style; Shop Online Now!
Say Happy Birthday, send your love, or impress your VIPs with The British Cheese Collection. The perfect Valentine, Mother's day gift, Father's day, Thank you Hamper, or any other Special Occasion you choose.
The Sweet Hamper comes Complete in the Pretty Combination from the British Bites Hamper and is full of wholesome items like a rich British Brie Cheese, a Mature Stilton Wedge, and a classy Wood Cheese Board for display.
They'll also enjoy a spread of sides including a jar of Pickled Mini Onions, a jar of rich Real Ale Chutney, a pack of crisp Spinach & Celery Seed Crackers, and more!
A Mixture of Luxury Nibbles. Presented in a Custom Cool Basket, inside you will find:

Oatcakes, Duncans of Deeside 200g;




Real Ale Chutney, Drivers 350g;



 Pickled Mini Onions, Drivers 350g;


Cheese Biscuits with Pepper, Noble Savoury 70g,;

 Pistachios Roasted with Sea Salt, Zeina 40g;

 Cheese Straws, Fosters, 150g;

 Onion Marmalade, Welsh Lady 325g;

 Chunky Piccalilli, Drivers 350g;



 Fosters Black Pepper & Sesame Seeds Crackers 200G;


 British Brie Cheese, Simon Weaver 140g;

 Mature Stilton Wedge, Cropwell Bishop 454g;



 Double Gloucester, Chive & Onion, Nantwich, 200g;


 Oak Smoked Whittington Cheese, Croome 150g;

 Just Jane Vintage Cheddar, Lymn Bank Farm 200g;




 Wood Cheese Board;




 Spelt and Seed Crackers, Bergbanket 80g;

Gift Box;

Gift Wrapping;
Greeting Card.

Attention: gift packaging type varies based on delivery location and season.
Shipping Notice:
Please allow 2 business days for your order to arrive at an address in the UK.

We provide gift delivery in all locations in the UK.
We deliver gifts locally within the UK, which guarantees quick service & product freshness upon arrival to your gift recipient. Please see the delivery policy for more details.
Guaranteed Satisfaction > or your money back💸